About the Raleigh Meditation Group:

The Raleigh Meditation Group is a branch of
Self-Realization Fellowship
, a worldwide spiritual organization founded by Paramahansa Yogananda, in 1920, to teach scientific techniques of meditation that will lead to a direct, personal relationship with God. Our building has been designed to meet the needs of the Self-Realization Fellowship members living in the Raleigh, North Carolina area and beyond. The facility includes a Meditation Chapel, Book Room (where one can buy a variety of SRF publications), Sunday School room, Parent-Child room, and an area for social functions.
Our Guru
"Paramahansa Yogananda (1893–1952) is considered one of the preeminent spiritual figures of modern times.
Author of the best-selling spiritual classic Autobiography of a Yogi, this beloved world teacher came to America in 1920 from his native India, and was the first great master of yoga to live and teach in the West for an extended period (more than 30 years). He is now widely recognized as the Father of Yoga in the West. He founded Self-Realization Fellowship (1920) and Yogoda Satsanga Society of India (1917), which continue to carry on his spiritual legacy worldwide under the leadership of Sri Mrinalini Mata, one of his closest disciples."
- SRF Website
(
http://www.yogananda-srf.org/
)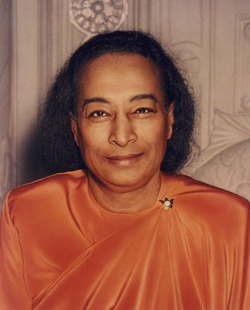 ​"Forget the past, for it is gone from your domain! Forget the future, for it is beyond your reach! Control the present! Live supremely well now! This is the way of the wise"
Click here to listen to Paramahansa Yogananda

Autobiography of a Yogi is one of the world's most acclaimed spiritual classics.
As the life story of Paramahansa Yogananda — who is often referred to as the
Father of Yoga in the West — the book has touched the hearts and minds of
millions around the globe. Translated into many languages, it has served as an
ambassador for India's ancient science of Yoga, introducing countless readers to
the methods for attaining God-realization that are India's unique and lasting
contribution to world civilization. In 1999, a Harper Collins panel of distinguished authors and scholars selected Autobiography of a Yogi as one of the "100 Best Spiritual Books of the Century."
For more information, please visit: http://www.yogananda-srf.org/
The official website of the Mother Center and Headquarters of the worldwide SRF
(Self-Realization-Fellowship), located in Los Angeles, California, USA.